Just €149 with next day results – or

same day results for

€199

Ireland's most popular home DNA test kit
All samples are tested at our award-winning, in-house laboratory
Test kit sent direct to an address of your choice with discreet packaging
Trusted by TV production companies to provide DNA testing
Ireland's best-selling home DNA paternity test from €149
Four easy steps for your paternity test
Buy your collection kit
Collect your cheek cell DNA samples
Post back to our laboratory
Receive your results by email
What's in our DNA paternity testing kit?
The DNA paternity testing kit contains enough collection swabs to test one alleged father, one child and one mother, if available. The mouth swabs need to be rubbed gently and painlessly on the inside of the cheek, so it is not a problem if anyone involved is scared of needles.
When testing for paternity, it is beneficial to also provide a sample from the mother. However, if necessary we can perform the DNA testing without a sample from the mother.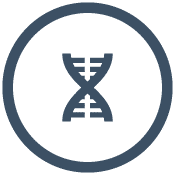 How do we do our DNA testing?
When individuals are biologically related as parent and child, their DNA profiles show predictable patterns of genetic inheritance. It is this information we use to determine the paternity of a child. The paternity test works by comparing up to 42 DNA markers from a child's DNA profile with that of an alleged father (and often the mother as well).
Because a child inherits half of his or her DNA from each biological parent, such a comparison reveals whether the child may have inherited DNA from the father.
AlphaBiolabs uses the most up-to-date DNA testing technology to ensure the reliability and accuracy of our genetic testing. We are the only company to offer same day DNA test results to our customers. We are ISO 17025 accredited meaning that you can have confidence in our results as our laboratory has been independently assessed.
Choose to receive fast, accurate results either the same working day for €199 or the next day for just €149.
All samples are tested at our award-winning, in-house laboratory
Why choose AlphaBiolabs for your paternity DNA test kit?
We understand the anxiety you may be feeling at this time and have taken appropriate measures to ensure that confidentiality and speed is maintained at every step. These measures include:
Sending all literature and DNA sample collection kits in plain white envelopes with no company branding
We destroy all samples within 3 months of the report date; and all personal information is destroyed within 12 months of report date to ensure we are not holding any personal information for longer than needed
We do not share your information with any other company or third party
You can opt out of providing your home address to maintain confidentiality
Choose to receive fast, accurate results either the same working day for €199 or the next day for just €149.
Enclosed in the test kit:
Peace of Mind DNA test request/consent form
Full instructions on how to take the test
A self-addressed envelope to send your DNA test samples back to us
DNA sample collection packages containing two swabs each
Individual sample envelopes for the alleged father and child (and mother if available)
You can test extra children with the same test kit. Simply tell us when ordering and we will provide more swabs in the test kit.
Buy your DNA testing kit here today
Buy the fastest, most accurate DNA paternity test here