DNA Paternity Test Kit
€109.00
Just €109 for results in 2-3 days
Ireland's fastest and most accurate paternity test 
Up to 42 DNA markers (loci) analysed – double the industry standard
Award-winning, accredited laboratory
100% accurate
Only a simple cheek swab required
All tests performed at our in-house laboratory
TV production companies trust us for their DNA testing
Kit sent to an address of your choice, in discreet, plain packaging
Four easy steps for your paternity test
Collect your cheek cell DNA samples
Post back to our laboratory
Receive your results by email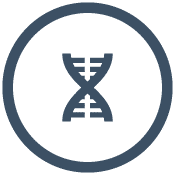 How do we do our paternity DNA testing?
Receive 100% accurate results from just €109 with Ireland's fastest and most reliable paternity DNA test from AlphaBiolabs. 
Our paternity test analyses up to 42 DNA markers – double the industry standard for paternity testing – to examine the child's DNA and identify which half is inherited from the father. 
When testing the biological father of the child, both will share enough DNA markers to confirm a biological relationship. If the tested man is not the biological father, this will not be the case. 
Order your test online now and get the answers you need in just 2-3 days, with Ireland's most popular home DNA paternity test from AlphaBiolabs.
Your test kit will be sent out in discreet, plain packaging, for full confidentiality. 
Ireland's fastest, most accurate DNA paternity test from €109
Why choose AlphaBiolabs for your paternity test?
Ireland's most popular home paternity test kit
Up to 42 DNA markers analysed – twice as many as our competitors 
We test the child and the alleged father
ISO 17025-accredited testing laboratory
Confidential results available in 2-3 days
100% accurate
Only a simple cheek swab required
Paternity test kit sent directly to your preferred address in discreet, plain packaging
Please note
This paternity test is a 'Peace of Mind' DNA test, which means it is used for information purposes only.
If you need a paternity test before the baby is born, you can purchase one of our non-invasive, 100% risk-free prenatal paternity tests.
For legal matters such as child maintenance, changing the name on a birth certificate, family law matters, immigration applications, or inheritance and probate disputes, you will need a legal DNA test.
Please call 01 402 9466 to talk to one of our experts and arrange your test.
The expert authority you can trust
What's in our home paternity test kit?
Get the answers you need with Ireland's fastest and most popular home DNA paternity test from AlphaBiolabs.
Our DNA paternity testing kit contains enough collection swabs to test one alleged father and one child.
Enclosed in the DNA test kit:
Peace of Mind DNA test request/consent form
Full instructions on how to take the DNA paternity test and return the samples back to us
A self-addressed envelope to send your DNA test samples back to us
Two collection swab packages containing two swabs in each package
Individual DNA test sample envelopes for the alleged father and the child
If you want to test more than one child with the same test, you can add extra children to the package when ordering and more swabs will be provided in the DNA test kit (additional charges apply).
Your test kit will be sent out in discreet, plain packaging, for full confidentiality.
Read reviews from real customers
Fantastic service from AlphaBiolabs, can't recommend this place enough. The service I got from start to finish was brilliant! The team who took my calls for questions regarding the results were very reassuring, friendly and helpful. It was super quick also. Thank you, I will be recommending you in the future for anyone need these tests done. Very happy.
Paternity Test customer
Thank you to all staff at AlphaBiolabs for finally confirming after 29 years of not knowing who my father was. I now have the answer and I am now looking forward to building a relationship with my father. Without your paternity test I could have been searching for many more years. I recommend your service to anyone out there looking for answers too, from purchasing the DNA test which arrived the very next day to receiving confirmation that the samples had been delivered to the lab, to the customer service team who are more than happy to help with any queries you may have, to the results of the test. The whole process was very smooth and very fast. Thanks again to all involved at AlphaBiolabs.
Paternity Test customer
What can I say… superb service from start to finish. Very, very pleased with results and I would recommend AlphaBiolabs to anyone! Thank you so much.
Paternity Test customer
Buy the fastest, most accurate DNA paternity test now