DNA Testing Services
Scroll down for the fastest DNA testing in Ireland
Why choose AlphaBiolabs for your DNA test?
Ireland's most popular home DNA test kit
Voted the best peace of mind DNA test
DNA testing kit sent directly to your address with discreet packaging
Our laboratory processes are ISO 17025 accredited (Laboratory number 2773)
We test all our exclusion results twice
Confidential results available in 2-3 days
100% accurate cheek cell testing service
Up to 45 DNA markers analysed – double the industry standard
Over ONE MILLION genetic tests performed since 2004
Choose to receive accurate and confidential results from the best DNA testing laboratory in Ireland.
If you are looking to establish the biological father of a child for your peace of mind, you can collect your DNA test samples using our paternity test kit in the comfort of your own home.
There are just four easy steps to follow: buy your collection kit, collect your cheek cell DNA samples, post back to our laboratory using freepost envelope provided, and receive your results by email.
A DNA maternity test is suitable if you want to demonstrate the existence of a biological relationship between an alleged mother and a child. If a child is adopted, he or she may grow up wanting to find their biological parents. This test is ideal for such a situation if someone wants to conclusively prove whether an alleged mother is the true biological mother.
DNA aunt testing (also known as an avuncular test) is often needed when the alleged father or mother is deceased or unwilling to participate in the testing process and the alleged aunt of the child would like to establish their biological relationship to the child.
Because an individual inherits half of his or her DNA from each biological parent, such a comparison reveals whether the child has inherited DNA from the alleged aunt who is being tested.
Due to the nature of the aunt DNA test, we ask that the alleged aunt who has a claimed biological link to the child should be tested along with the child and their mother (or father, if the aunt is related to the child through the mother) to provide you with the most accurate result.
Uncle DNA testing (also known as avuncular testing) is usually needed when the alleged mother or father is deceased or unwilling to participate in a test and the alleged uncle of the child would like to establish their biological relationship.
An individual inherits half of their DNA from each biological parent, therefore our comparison can reveal whether the child has inherited DNA from the alleged uncle who is being tested.
To provide you with the most accurate result, we ask that the alleged uncle who has a claimed biological link to the child should be tested along with the child and their mother (or father, if the uncle is related to the child through the mother).
DNA grandparent tests can be used to establish a biological relationship between an individual and one or more of their alleged grandparents.
One of the main reasons that the DNA test is performed is when a child's alleged father is unavailable for paternity testing and the child's grandparents want to know whether the child is truly related to them.
A Y chromosome test is used in cases where alleged male relatives wish to confirm they share a common paternal line. All male children inherit their Y chromosome from their father; these children will in turn pass the Y chromosome inherited from their father to their male children when they become fathers.
This inheritance pattern means that males coming from the same paternal line will always share the same Y chromosome. Furthermore, the low mutation rate of the Y chromosome makes this test all the more reliable.
AlphaBiolabs uses DNA technology to establish whether or not brothers and sisters have the same father or the same father and mother. Our DNA sibling test has an accuracy rate of 100%. We can perform the sibling analysis without any samples from the mother or father; however, a sample from one parent can be advantageous in terms of the statistical analysis performed.
We use statistical analysis to evaluate the amount of DNA shared between the individuals tested to deduce a biological relationship. For example, full siblings usually have more DNA in common than half-siblings, while half-siblings normally share more DNA than unrelated persons.
It is advisable to have a single DNA profile if you are planning to work in high risk areas or in an occupation that may be deemed dangerous. In the event of an accident, having your DNA profile already documented may make body identification easier and your profile is available for paternity/maternity testing if required.
Some people use their genetic profile to create a unique piece of art, which they display in their home or place of work, or give to relatives as a present.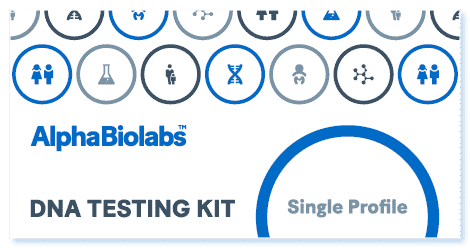 Our DNA prenatal test is the Ireland's most accurate non-invasive method to determine paternity of the baby before birth.
This advanced procedure incorporates DNA SNP microarray technology by preserving and analysing the baby's DNA that is found within the mother's bloodstream.
This is a non-invasive DNA prenatal test, which means that there is no risk to the mother or the unborn child when taking this test, unlike an invasive prenatal test in which embryonic fluid is taken directly from the womb using a needle.
If you are curious and interested in researching your family history, or you simply want to learn more about you and your background, ancestry DNA testing test can provide you with a clearer understanding of your genetic ancestry and provide a platform into further research about your likely ancestors.
Zygosity testing is used to determine whether multiple children from the same birth (twins, triplets, quadruplets, etc.) are genetically identical or not. If siblings are identical, they are known as monozygotic. This means that they were formed from a single fertilised egg, which went on to split into separate embryos. It also means that their DNA is exactly the same. Non-identical siblings from the same birth are known as dizygotic (i.e., having two zygotes). Triplets are trizygotic (three zygotes), quadruplets are quadzygotic (four zygotes), and polyzygotic is the umbrella term for multiple zygotes. This means that these siblings are the result of separate fertilised eggs and that they share DNA in common (as in the case of siblings from different births).
AlphaBiolabs has worked with many of the Ireland's leading law firms and we have built up a good relationship with thousands of individuals among a multitude of sectors including local authorities, prisons, law firms and consulates, moulding the company into legal DNA testing specialists over the years. We collect DNA samples from any location in Ireland: this could be at your client's home, at your offices, or even from prisons if required. Your clients may even be able to visit one of our Walk in Centres to have their sample collected for free. Our fully trained sample collectors follow strict procedures to maintain chain of custody, which is crucial for legal testing.
Do you have any questions?
Learn more about DNA testing in our Frequently Asked Questions (FAQ) section. If you don't find the answer you need, please get in touch and let us know. We will add it to our FAQs.
Don't see the test you require?
Call 01 402 9466 or email info@alphabiolabs.ie and our Customer Services team will be happy to help